How-to create Your BetalingsService/autopayment so Your rent will be payed automatic, every month.
Important: You CANNOT create BetalingsService agreement in Your bank or netbank – You can ONLY do by logging in Your personal page at BoligManager.

Login to Your page at BoligManager:
You have already recieved an email as image below. If You cannot find it in Your inbox, see in Your other inboxes.
Click the button "Kom igang med Lejerportalen" (Get started) then You get directly to BoligManager where You create Your own personal password. Confirm the password again and then go! Its a good idea to use a strong, difficult password – and store the word somewhere so You can find it again. You can, however, always reset Your password and create a new if needed.
Direct link for login: https://portal.boligmanager.com/login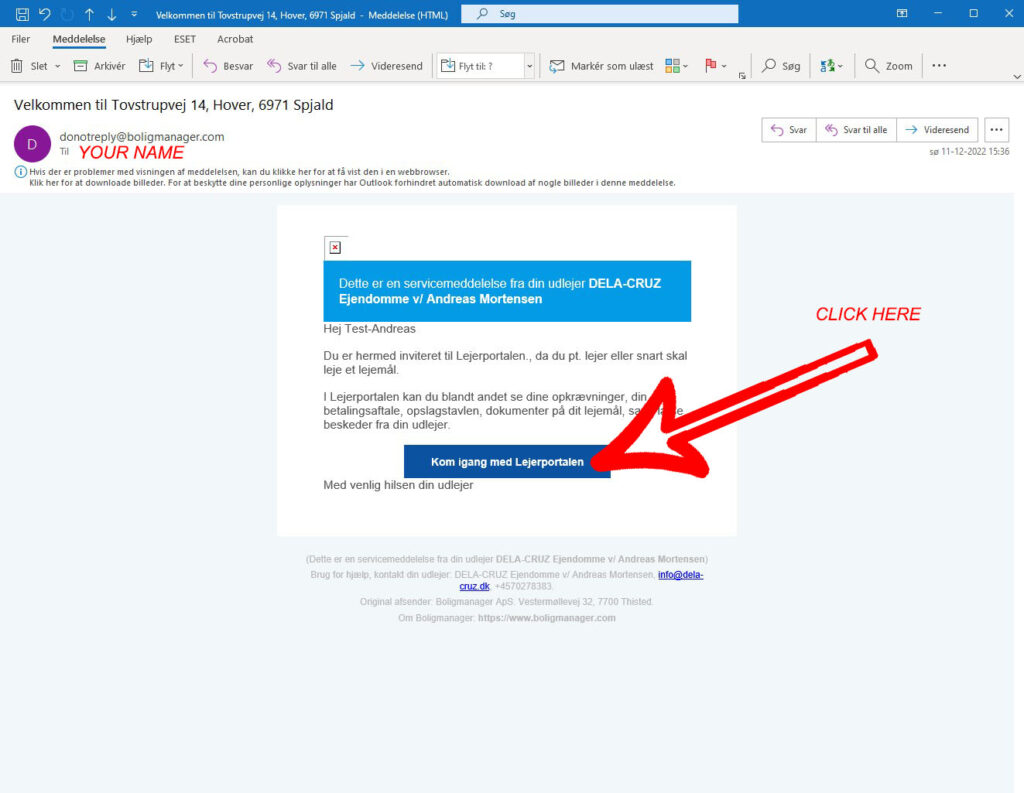 When You have created Your password, You will end as You can see here below – Your own, personal page
Here You can find many interesting and practical informations – as example under tab:
HJEM (HOME) Is a whiteboard with relevant information from us to You.
BESKEDER (MESSAGES) – Here You can write directly to us and we can write to You. If we do You will get a notification email.
DOKUMENTER (DOCUMENTS) contains 2 types of documents: 1: Your personal documents, eg. Your lease contract and other personal documents. 2: Commen documents, related to You and the other people living in same building. Here You sure find valuable information to help You in every-day life.
BETALING (PAYMENT) – here You can see all rent collections as of 1/12 2022 and forward. It is also here You can apply for BetalingsService More information below. IMPORTANT: You CANNOT apply for BetalingsService in Your own bank – You can ONLY do it by Your BoligManager-login.
INDSTILLINGER (SETTINGS) – Here You can change email adress and password if needed.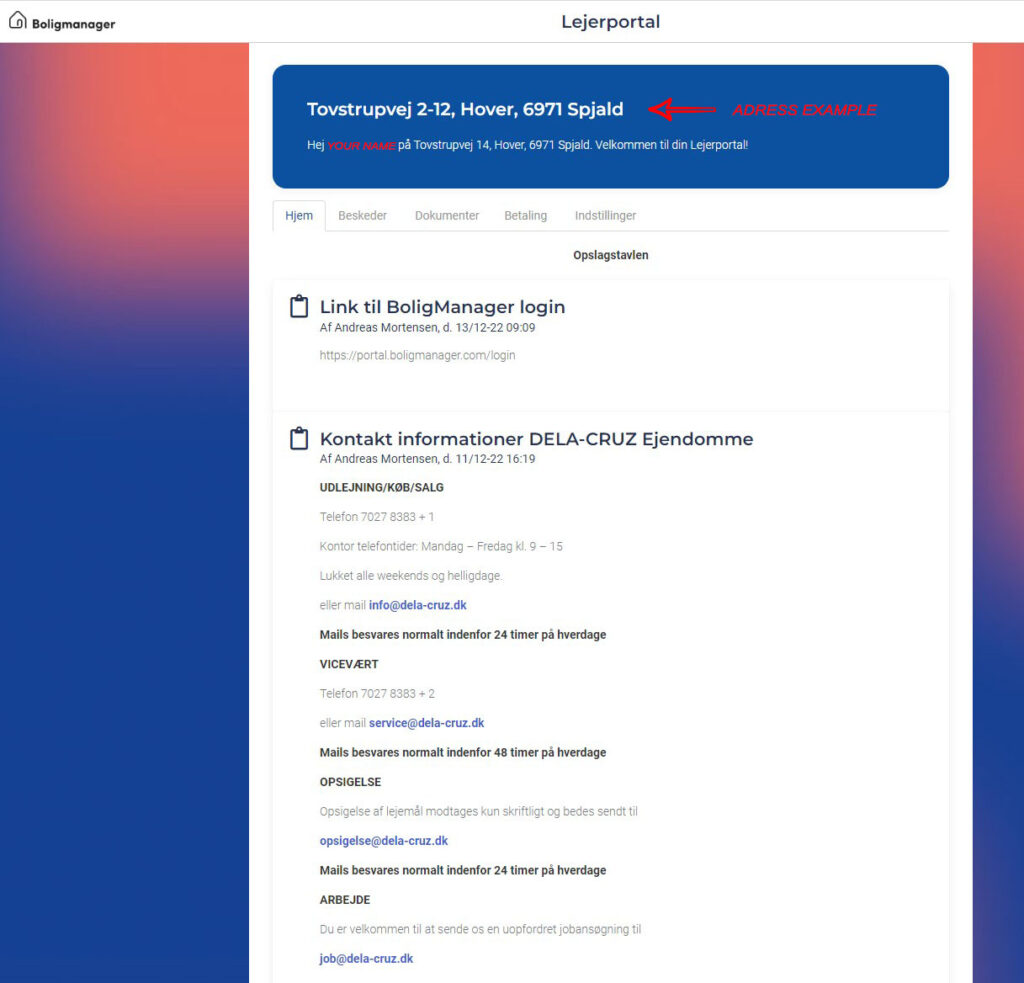 Its easier than You can imagine to apply to BetalingsService by BoligManager.
To apply for BetalingsService – which is a prerequisite for entering into the lease – Go to the tab BETALING
Then click OPRET BETALINGSAFTALE (create BetalingsService agreement).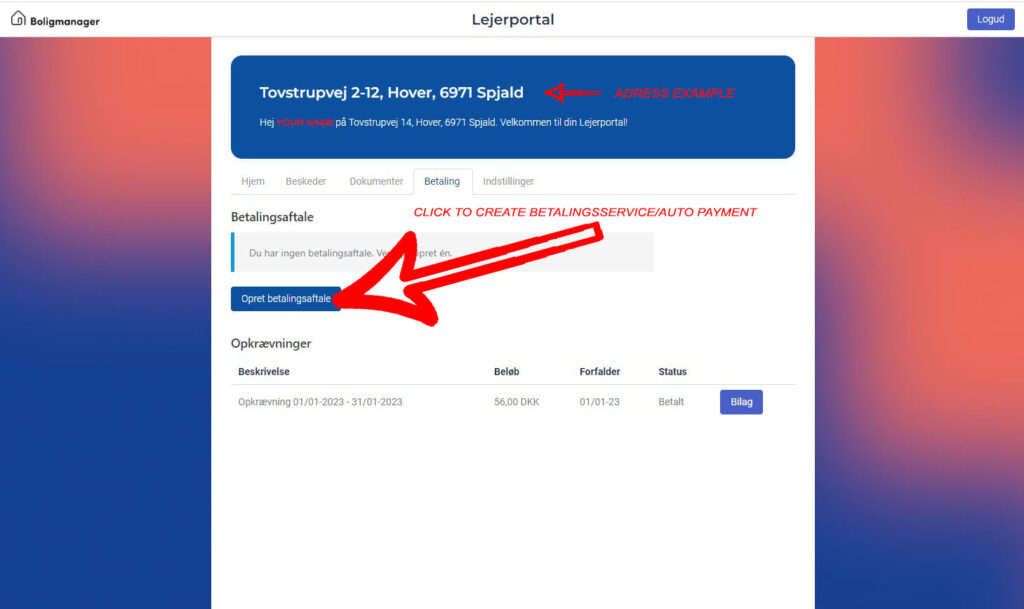 Here You enter Your banks registration no. and Your bank account no. Down under You enter Your CPR no, Accept the 2 terms of use and hit OPRET (CREATE).
Important: You shall not need other information, like Kreditor nummer – Debitor gruppe nummer or Kundenummer – these informations BoligManager already have.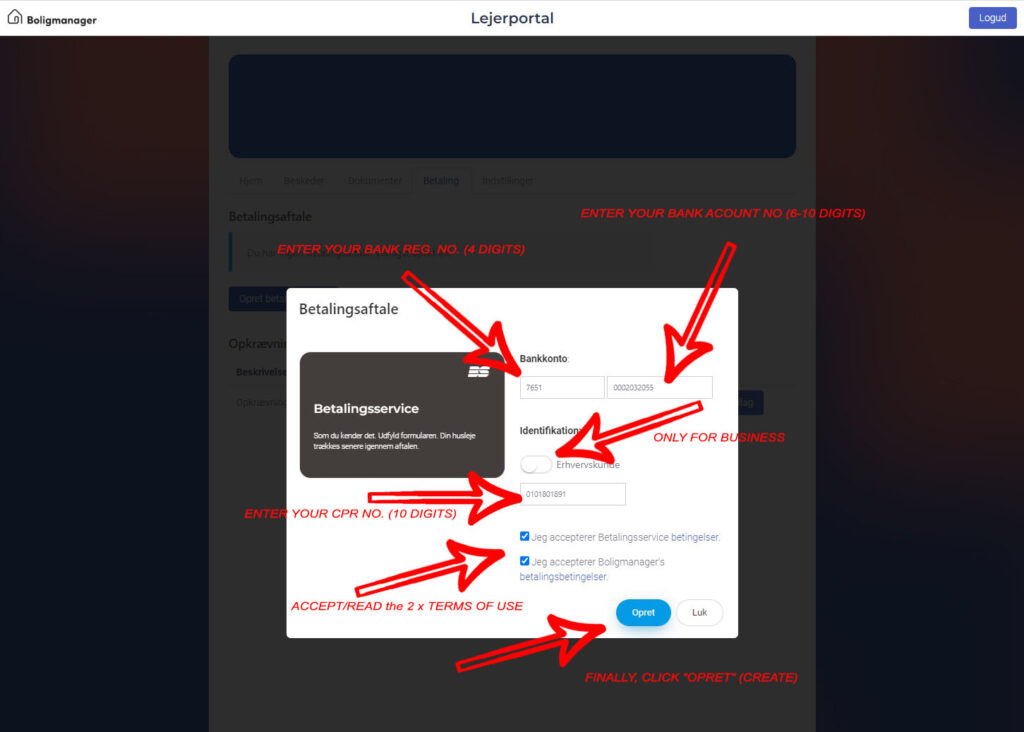 Immediately after You hit OPRET, You can see status as AFVENTER (WAITING).
Within nomally 24 hours or less, statu change to OK.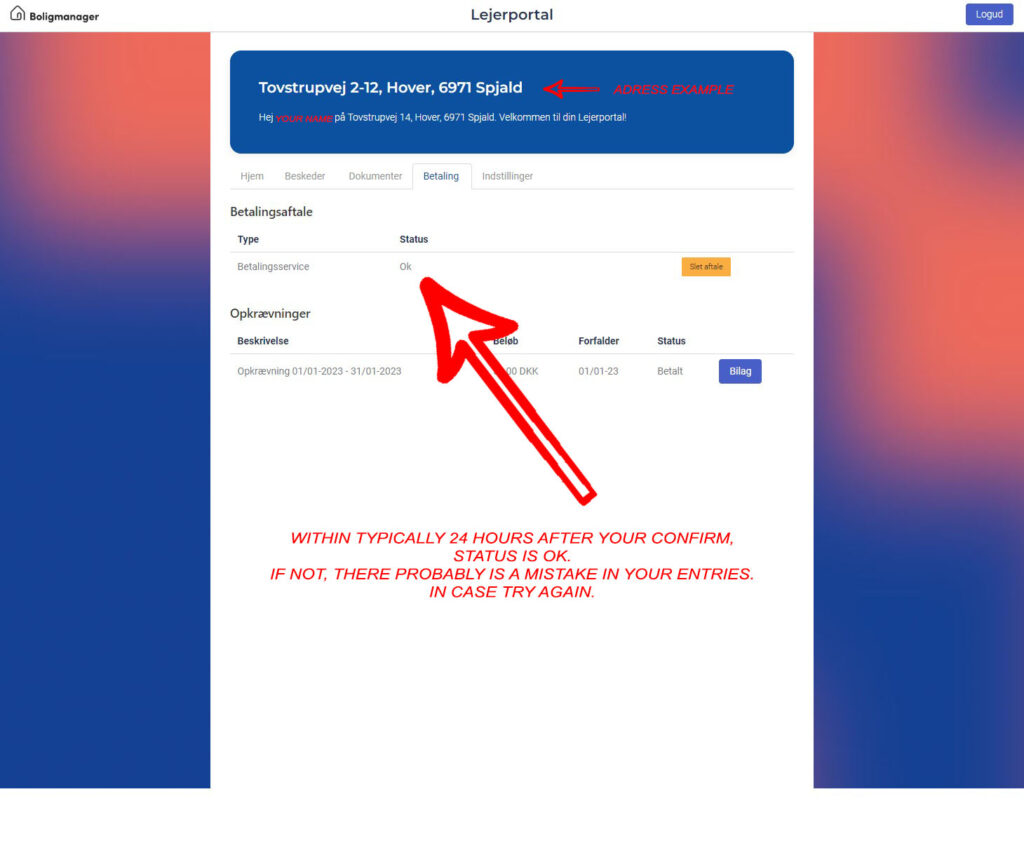 When Your lease contract runs out, natrually the automatic payments stops, too.
2023.01.10